Police patch, raffle tickets to aid restoration of old carousel horses on Merry-Go-Round
23-Mar-2018
---
Holyoke's public safety departments are selling commemorative patches and raffle tickets for a good cause — renovation of carousel horses on the Holyoke Merry-Go-Round.
Holyoke Police Detective Jared Hamel and Kathie McDonough, the Merry-Go-Round's operations manager, discussed the cost of restoring a horse, and agreed to create a patch in honor of the Merry-Go-Round's upcoming 25th anniversary. Hamel then contacted his cousin, Jim Prout, who was the artist responsible for the first two patches. They came up with the perfect patch, 500 copies of which were then produced by Sentry Uniform in Chicopee.
The patches are on sale for $10 from Hamel or at the Merry-Go-Round.
At McDonough's suggestion, Hamel contacted friend on the Fire Department, Capt. David Rex, to see if that department would also sponsor a horse restoration. Firefighters agreed to sell raffle tickets as a fundraiser for their campaign. Raffle tickets are $25 each, available through the first week in March. A grand prize of $2,500 and several other cash prizes will be drawn at that time.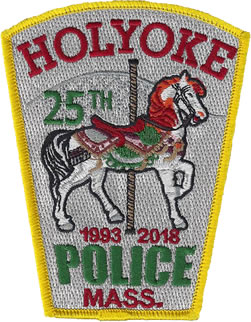 The fundraiser Holyoke Police patch depicts a carousel horse, with a shadow in the background of a roller coaster track, representing Mountain Park, the Holyoke Merry-Go-Round's original home.
---