Holyoke Police & Fire work to save Merry-Go-Round
06-Mar-2018
---
Holyoke's landmark Merry-Go-Round is in need of some expensive restoration.
Stuffed animals now ride the antique horses that are now too damaged to carry kids at the Holyoke Merry-Go-Round.
When one police officer's son thought those horses deserved to be fixed, he encouraged his dad's department to help.
The fire department wanted to do something too, so they came up with an idea.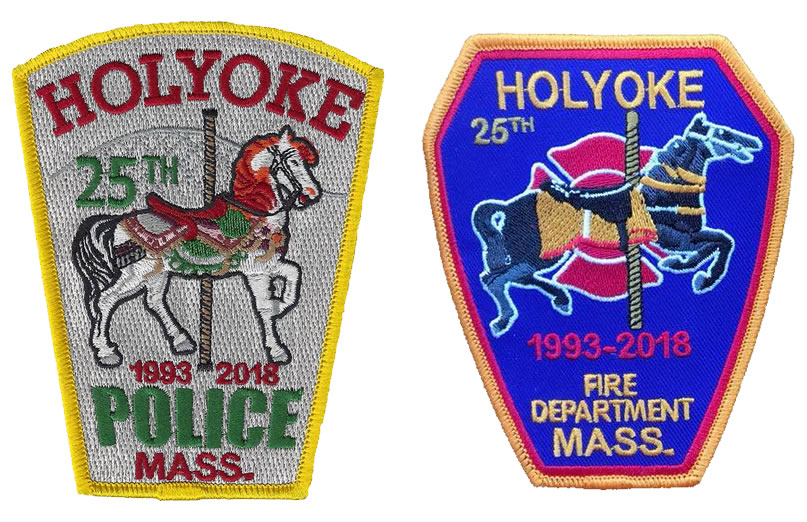 "So we kind of brainstormed and we came up with patches, so each department came up with a patch with the carousel emblem in it," said Holyoke Fire Capt. David Rex.
To mark 25 years, the departments are selling specially-made patches as a keepsake to honor a landmark that has meant so much to this community.
The patches that typically fasten to the shoulder of a Holyoke firefighter now have the carousel horse weaved in.
"When it comes to the patches, you're not gonna see these. A couple hundred were made and that was it," Rex added.
It's not only the patches, but a raffle on top of it to really celebrate 25 years at Heritage Park.
For an expensive restoration project, every dollar counts and it's important for the community to keep up with this classic attraction.
"It's an important, important part of Holyoke's history and it's used quite a bit to draw everybody together," Rex said.
The horses need a lot of love and Kathie McDonough, operations manager for the Merry-Go-Round tells Western Mass News she is so grateful for the support from these local heroes.
"A horse for each department one for fire and one for the police, to honor the men and women who serve this community so bravely," McDonough said.
Patches can be purchased for $10 and raffles tickets are $25. The grand prize drawing is this weekend, March 10.
Everything can be purchased at the Merry-Go-Round.
Original Story by Western Mass News
---