2018 Holiday Market is Back!
12-Nov-2018
---
Springfield has its "Bright Nights at Forest Park." Northampton has its "Holiday Trains" at Look Park. But, what does Holyoke have? The Holyoke Holiday Market.
The "Holyoke Holiday Market" on November 30th and December 1st will be filled with arts and crafts vendors setting up shop in warm and cozy outdoor tents. The park will be decorated in festive style with twinkling lights and the sounds of carolers and brassy music will add to the holiday ambiance! In-between shopping, visitors can take a break and enjoy some tasty festival foods along with a spirited libation, while enjoying the company of friends and family. And, of course, there will still be that nostalgic ride to take on our fabulous 1929 carousel from the former Mountain Park, which now shines brighter than ever with newly-installed colorful LED lighting!
---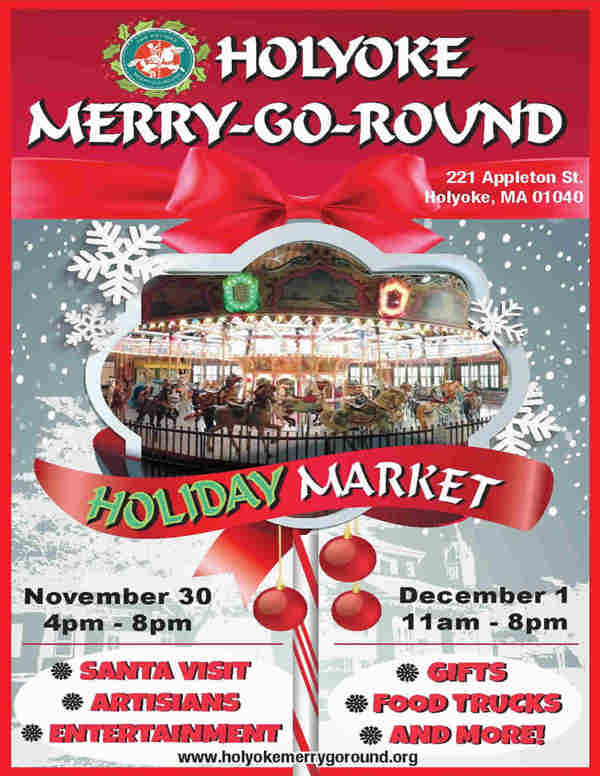 The Holiday Market is coming to us on November 30 & December 1!
Friday 4:00 - 8:00 P.M. and
Saturday 11:00 A.M. - 8:00 P.M.
Santa Will Be Visiting!
There will be Food Trucks, Vendors, and Entertainment!
---
Food Vendors and Crafters can get information and apply on the website:

---