DERBY DAZZLE 2017
16-Feb-2017
SAVE THE DATE FOR HOLYOKE'S ULTIMATE KENTUCKY DERBY PARTY!
Back by popular demand the Holyoke Merry-Go-Round will host Derby Dazzle 2017! Holyoke's ultimate 143rd Kentucky Derby party will be held Saturday, May 6, 2017 from 5 - 7:30 P.M.
Prizes for women's Best Derby Hats and men's Best Derby Ties will be awarded while you enjoy Kentucky cuisine, Mint Juleps, and the Merry-Go-Round's New Signature Drink.
---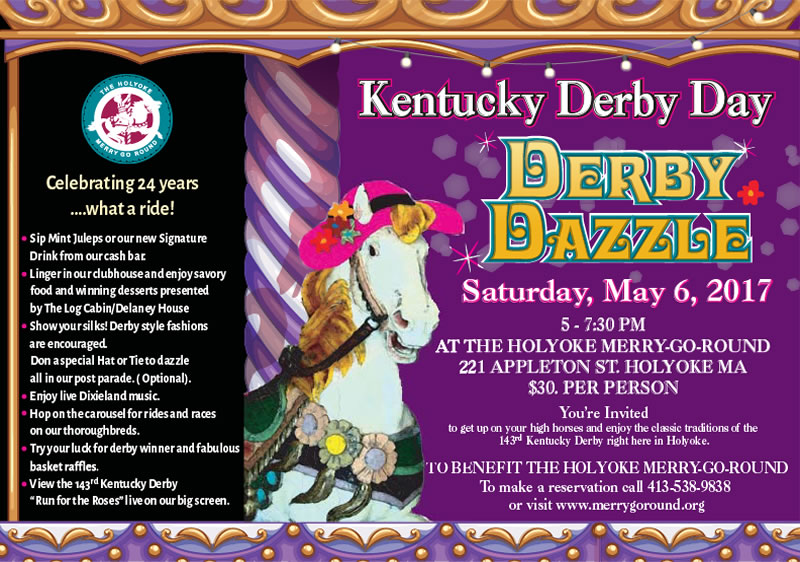 ---
Musical entertainment, carousel horse races, and raffles, one which will include the winning ticket for the race, are all part of this fun event!
Bring your friends and families for the call to the post to cheer on your favorite thoroughbred in the 143rd Kentucky Derby "Run for the Roses" to be shown on a large screen.
2017 DERBY DAZZLE TICKETS
$30 per person
---
May 6, 2017 5:00 - 7:30 P.M.
CLICK HERE TO BUY TICKETS ONLINE

For more information or to make a reservation, contact the Holyoke Merry-Go-Round at (413) 538-9838.
---