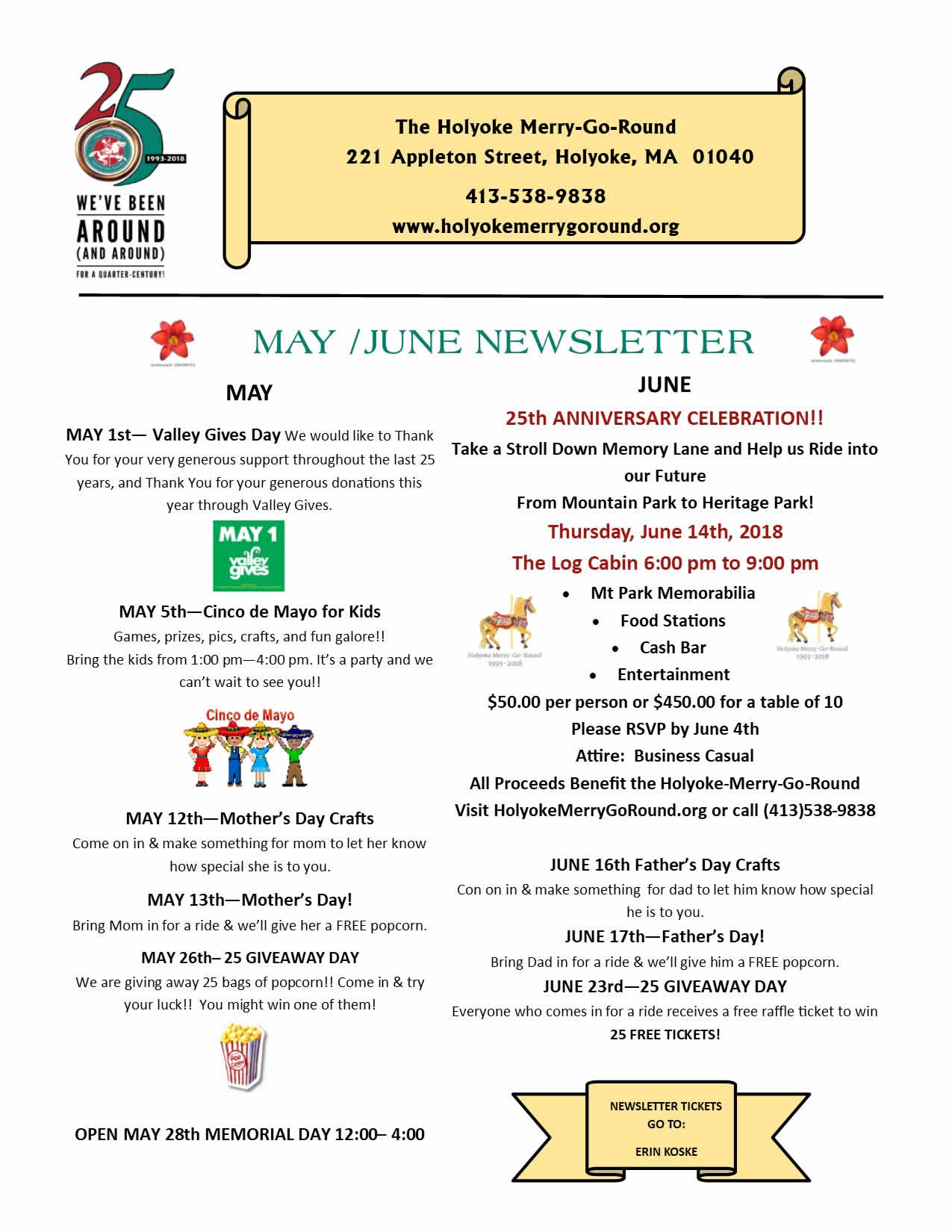 ---
Events CALENDAR
---
Date: Jun 23, 2018
Today is our monthly 25 Year Giveawa Day. Everyone who comes in for a ride will receive a FREE raffle ticket to win 25 FREE TICKETS! Come on in ..
---
Date: Jul 13, 2018
Free Fun Friday- come and enjoy The Children's Museum in Holyoke and The Holyoke Merry-Go-Round for free!! More fun things to do too! Come on do..
---
Date: Jul 14, 2018
Saturday, July 14th at 1:00 pm The Yo-Yo and You! Eric Koloski - a Yo-Yo teacher from A2Z Science & Learning Store, as well as an accompl..
---
Date: Jul 21, 2018
Saturday, July 21st at 1:00 pm Birds of Prey Tom Ricardi of the Massachusetts Birds of Prey Rehab Facility in Conway, Mass travels throughou..
---
Date: Aug 03, 2018
Friday, August 3rd @ 1:00 pm Book Bingo Our favorite Holyoke Children's Librarians are back and they are bringing one of our favorite games...
---
Date: Aug 05, 2018
Sunday, August 5th at 1:00 pm- A Family Party in the Park 413 Family Fitness & Cardio Hip-Hop masters Juan"tastic" Vazquez and his amazi..
---
Date: Aug 26, 2018
Sunday, August 26th 12 - 4 pm 25th Birthday Party It's our 25th Anniversary! We have been in Heritage State Park for 25 years!! We could ..
---